Hydraulic-Magnetic Circuit Breakers and Operation
This type of circuit breaker is used whenever site conditions would interfere with the normal operation of thermal overload protection, including cases such as:
Low temperatures, which might prevent thermal protection from tripping.
High temperatures, which may trip thermal protection without an overload.
Environment moisture, which may absorb heat and affect the operation of thermal protection mechanisms.
Hydraulic-magnetic circuit breakers, whose overload protection is independent on temperature, offer a suitable solution for applications such as marine environments, transportation, generator rooms, and any industrial location with temperature or moisture extremes.
Hydraulic-Magnetic Circuit Breaker Operation
As mentioned before, thermal-magnetic circuit breakers accomplish their protection function through a combination of two elements: an expanding contact for overload protection and an induction coil for fault protection. Hydraulic-magnetic circuit breakers, on the other hand, accomplish both types of protection with an induction coil whose mechanical actuator is dampened by a fluid-filled cylinder.
If there is an overload, which only exceeds the rated current slightly, the induced magnetic field will be weak and the circuit breaker's trip will be delayed due to the dampened cylinder.
If there is a high-current fault, the induced magnetic field is very strong and the dampening effect is overcome instantly- providing an immediate trip.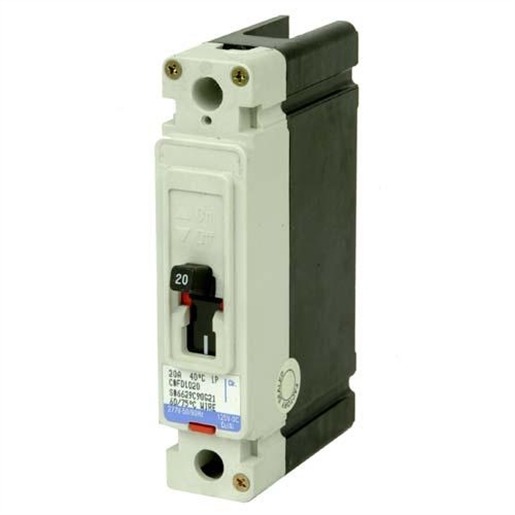 Molded Case Circuit Breakers
Molded case circuit breakers (MCCB) work on the same principles of thermal-magnetic protection, but they offer some additional features that are not available with MCBs:
MCCBs have adjustable trip settings, so they are suitable when the rated current of a circuit breaker must be fine-tuned according to the actual site conditions.
MCCBs have a much wider range of current ratings: they can be found from ratings below 100 Amps to ratings above 2500 Amps.
Compared with MCBs, molded-case circuit breakers are much larger, given that they must accommodate an adjustable trip mechanism and, in many cases, larger contacts for high-current applications. MCCBs are available in a wide variety of voltage ratings:
240-277 V: Eaton
480 V: Eaton
600 V: Eaton
There are two sub-types of MCCBs that are used exclusively for electric motor protection:
Motor protection circuit breaker (MPCB)
Motor circuit protectors (MCP)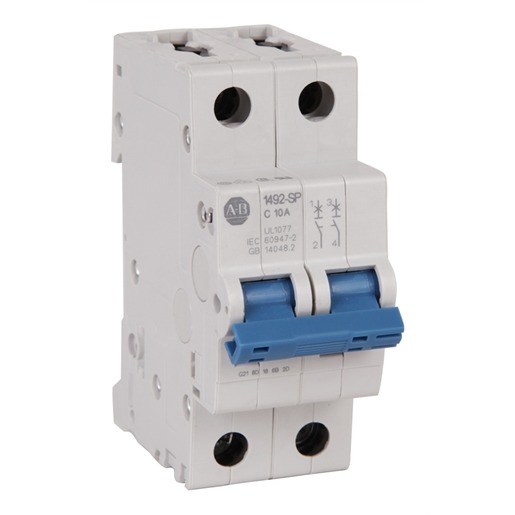 Plug-In Miniature circuit breakers (MCB)
These MCBs are characterized by ease of installation. As their name implies, they just have to be plugged into a compatible electric panel. Plug-in MCBs are suitable for applications that use circuit breakers exclusively- typically residential and commercial electrical distribution systems.
When using plug-in MCBs it is important to keep in mind that the breakers and the panel must match. This is not an issue when both are of the same brand, so it is highly recommendable to double check the model of the panel when plug-in MCBs will be added to an existing installation.
What are Miniature Circuit Breakers (MCB)
Miniature circuit breakers (MCB) are characterized by their low current ratings and fixed trip settings. Normally, MCBs have current ratings below 100 Amperes and, as their name implies, they have a compact size. There are three main types of MCBs, classified according to the current range at which they trip instantly.
Type B – Trips at 3 to 5 times rated current, suitable for resistive or slightly inductive loads.
Type C – Trips at 5 to 10 times rated current, suitable for moderate inductive loads.
Type D – Trips a t 10 to 20 times rated current, suitable for loads with a high inductive component.
Based on how they are mounted, MCBs can be divided into two categories.
DIN Rail Mount Miniature circuit breakers (MCB)
The main advantage of this type of MCB is versatility: DIN rails are used by many different types of electrical and communications equipment, and they are mainstream in industrial settings. DIN rail MCBs take advantage of this, and as a result they can be easily integrated into nearly any control or protection system.
A disadvantage of this type of MCB is that more work is required for installation, and plug-in MCBs may be a better choice in simple installations without advanced control and protection measures.
What are Miniature Circuit Breakers (MCB)
Miniature circuit breakers (MCB) are characterized by their low current ratings and fixed trip settings. Normally, MCBs have current ratings below 100 Amperes and, as their name implies, they have a compact size. There are three main types of MCBs
Plug-In Miniature circuit breakers (MCB)
These MCBs are characterized by ease of installation. As their name implies, they just have to be plugged into a compatible electric panel. Plug-in MCBs are suitable for applications that use circuit breakers exclusively- typically residential and commercial
SquareD Miniature Circuit Breaker (QO/QOB) Terminology
SquareD by Schneider Electric is one of the top brands of circuit breakers in the industry. This wiki post provides the meaning of the most common abbreviations found on the QO/QOB product line. QO and QOB These letters refer to the way in which