Tips To Save Money On Tires For Your Commercial Truck Fleet
If there is one thing that your company might spend a lot of money on, it's tires for your commercial truck fleet. Unfortunately, tire costs can really add up, but there are a few changes that you can implement to save your company a lot of money while ensuring that you always have safe tires on your trucks.
1. Balance and Rotate Tires
Just as it is important to balance and rotate the tires on your personal vehicle, it's also smart to do so with your commercial trucks. It will need to be done more frequently than on your personal vehicle, however, since your trucks are probably on the road a whole lot more each month. Ensuring that the tires are balanced and rotated on a regular basis helps ensure that there is regular wear and tear on all of the tires. This can help prevent some from wearing out too quickly and having the need to be replaced.
2. Ask Drivers to Check Air Pressure Regularly
Even though your drivers might think about checking the oil on their rigs when they are filling up, they might not check the air pressure on all of the tires as frequently as they should. Along with having your maintenance crew check the air pressure on all of the tires on your commercial truck when maintenance is being done, ask your drivers to check the air pressure each time that they fill up their rig. Not only can this help preserve the tires so that they last longer without the need for replacement, but it can also help keep your drivers — and other people on the road — as safe as possible and can help your company save money on fuel.
3. Consider Retreading
Instead of always replacing your truck's tires, you can always consider retreading instead. This allows you to keep your tires for longer without replacement and can be more affordable than buying brand new tires. Once you find that you can save money while keeping safe tires on your commercial trucks, you might find that you actually retread them more frequently than you replaced them in the past.
Buying tires for a commercial truck fleet can be very expensive. If you feel that the costs are really adding up and affecting your company, now is the time to think about making some changes. By making these three changes, you can not only save money, but you can also help keep your drivers and everyone else on the road safe from potential accidents.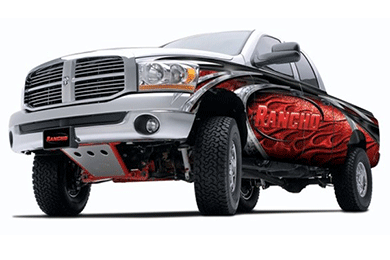 What Are Your Options To Cover the Cost of Semi Truck Repair?
Most importantly, year truck maintenance and repairs are estimated to cost around $15,000 annually. Common issues include air/line hoses, alternators, wiring, and brake repairs. Additionally, annual tire expenses can run around $4,000 a year to replace 16 out of 18 tires on an 18 wheeler. So what happens when you run into trouble and need cash to finance inevitable semi truck repairs or maintenance? Commercial vehicle lenders provide a range of financing options.
1. Commercial Vehicle Title Loans
Commercial vehicle title loans can function as a means toward cash for repairs. You can utilize commercial lending for title loans when you own your semi truck and want to use that capital for a loan to cover the expense of repairs. When you take out a title loan, the lender holds your title as collateral for your loan. You make payments to buy your title back and regain ownership. The terms of your loan may depend on the value of your truck as well as your overall credit. You may also be able to approximately determine the your monthly payments and down payment using a loan calculator, or even a commercial loan calculator. While these tools are not definitive, they could help put your finances in perspective. As you consider your options, note that many commercial vehicle financing companies offer commercial truck title loans as well.
2. Refinancing
If you already have a commercial vehicle loan but need fast cash for repairs, you may consider refinancing your loan. If you're refinancing, you're already familiar with commercial truck financing, but you may not realize that refinancing could help reduce your monthly payments and save you money. You can use the money you save monthly towards the repairs your semi truck needs. Refinancing can help you direct money toward the demands of your business including tires, regular maintenance and repairs.
3. Personal Loans
It might be tempting to pursue a personal loan when your truck needs repairs and you're short on funds. However, commercial vehicle loans for bad credit are readily available. Commercial vehicle loan rates can be slightly higher, but are usually more flexible on issues like bad credit or child support issues. Factors like established credit, collateral, a history of payments on a semi truck or home, and a clean record of bankruptcy or repossession will improve your rates on a semi truck repair loan. If you decide to pursue a personal loan, know that a credit check will be a part of that process. Personal collateral as well as business collateral can be useful when you're trying to obtain any type of loan.
4. Commercial Vehicle Repair Loan
Many lenders offer loans tailored to your truck repair needs. Repairs on one semi truck can frequently run between $10,000 and $20,000. When you work in the commercial transportation industry, you know that every day you're off the road is a day of revenue or income lost. Many lenders have flexible requirements to qualify for a truck repair loan, and offer loans for less experienced drivers or drivers with bad credit.
If you've run into some trouble with your semi truck and need options fast, don't hesitate. You can finance your repairs to get back on the road and continue earning your living. Consider refinancing, a title loan, a commercial vehicle repair loan, or a personal loan when you're at a crossroads.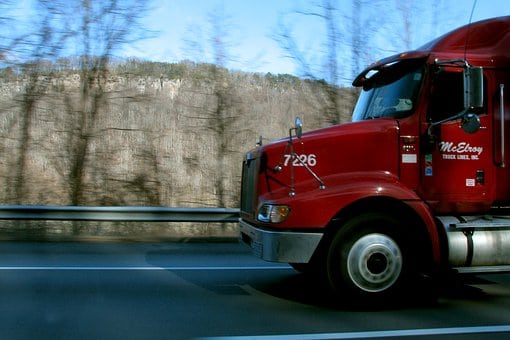 Leveling Kit vs. Suspension Lift Kit
Now that you've decided to raise your ride-height, the next step is finding out just how much lift is right for your rig. Whether you're just looking to run larger tires or you want enough ground-clearance to crawl over any crag, it's easy to customize your truck's inch-count to suit your driving style. But with suspension upgrades that range from average to extreme and affordable to expensive, finding the right lift can be overwhelming. You don't want to go too big or too small — so find one that's just right with a little help from AutoAnything.
Leveling kits
A leveling kit can deliver the up to 2.5" of additional space you need to clear up to 33" all-terrains. Leveling kits are far less expensive than an entire suspension lift and, therefore, much easier to install. If you want to go higher than a few inches, though, you'll need more suspension components to keep your vehicle in proper alignment. Below, we'll give you a sampling of the different kinds of leveling kits on our site, and an example for you to investigate.
Airbag kits, exemplified by the Air Lift Air Bag Suspension Kit
Coil spacer kits
Coilovers, Lifting coil springs
Rear block kits
Torsion key kits.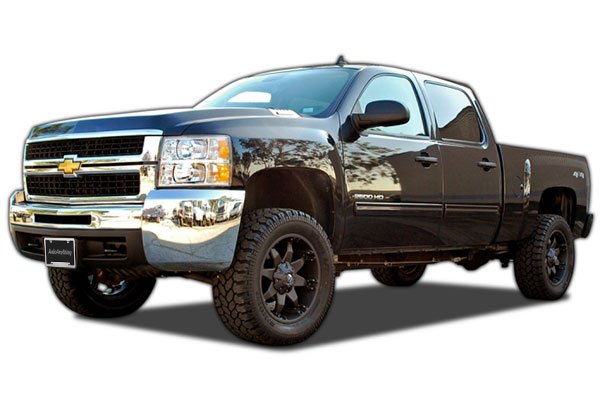 Lift kits
If the goal for lifting your ride is greater ground-clearance and off-road capabilities, a suspension lift kit is the way to go. This pricier solution delivers an overall boost of anywhere from 4" to 6", but, if you're looking to roll with 35" tires or larger, you'll probably need to go north of 4 inches. While this may be the more labor-intensive and costlier option, a quality lift kit will guarantee every component is raised right. That way, you can count on years of rugged rock-crawling.
Body lift kits
Coil spacer kits
Lifting coil springs
Lifting leaf springs
Rear block kits
How will lifting my truck affect the ride?
Just the Facts
Choosing your lift kit is the first step to gaining the modifications you desire. Unfortunately, there is no "one kit fits all" option available, so finding and choosing your lift is very important. First, you must determine your budget. Once you have that established, you need to consider what the vehicle will be used for, what size tires you want, and the factory suspension specifications for your vehicle type. This will help you determine whether you need a body lift or a suspension lift.
A body lift uses blocks and spacers to lift the body 2-3 inchers higher on the frame without altering the suspension. This is a great option if you are looking to modify the look to allow for bigger wheels and tires at an affordable price! With a body lift, the stability of your truck can be impacted due to the increased ride height, so if you are looking to take your vehicle off-roading, a suspension lift is the right choice for you.
Once you have established your desired aftermarket equipment, there are a few things you should keep in mind.
Stability
When you lift a vehicle you increase its center of gravity. It is not unusual for vehicles with higher and wider tires to have greater stability, but you should still take the time to get to know your new modifications and their limitations.
Suspension and Ride
A rough-riding kit can cause unexpected issues—like additional fatigue on long trips and wear on the truck itself. Generic suspension tuning can lead to loss of suspension damping which could lead to a much more serious problem. You may consider torsion bar twisting to cut costs, but it's really only acceptable for the purpose of leveling. Torsion bar twisting only adjusts the level at which the truck sits in during its suspension travel. This means tires that rub at stock height will still rub with the twisting. To maintain smooth ride and suspension, consider spending the extra dime for reservoir shocks, coilover shocks, custom leaf springs, or traction bars to tame your suspension and improve your ride.
Driveline
The vehicle's frame and body move up and away from the differentials when you alter a truck's suspension to make it higher. Driveshaft angles can become extreme and often cause vibrations, bind, and can experience premature wear. It can also cause issues with your CV joints. While many kits contain spacers, they are not always your best solution. Custom-length CV axles are the preferred method, but you can also consider installing pinion wedges between the axle and the spring pack to avoid driveline issues and extend the life of your lifted truck.
Gearing
When you up the tire size, you lose engine power. The bigger the tire, the greater highway cruising power you get, but for pretty much any other kind of driving, it's not an improvement. This can be avoided by ensuring your truck is regeared accordingly. A simple calculation tells you what gear ratio would get you back to your stock equivalent. It's derived from your new diameter, your old diameter, and your old axle ratio. Together they offer your new axle ratio. And if you drive a 4×4, you will need both your front and your back differentials regeared to the same ratio.