HOME INSPECTION GUIDE
home inspection guide will allow home buyers to better understand the home inspection process. Our inspections are performed to the National Association of Home Inspectors' (NACHI) Standards of Practice. It is a thorough visual assessment of the readily accessible features of the property. It is not invasive or destructive in nature.
A general home inspection is a non-invasive, visual examination of the accessible areas of a residential property (as delineated below), performed for a fee, which is designed to identify defects within specific systems and components defined by these Standards that are both observed and deemed material by the inspector. The scope of work may be modified by the Client and Inspector prior to the inspection process
The general home inspection is based on the observations made on the date of the inspection, and not a prediction of future conditions.
The general home inspection will not reveal every issue that exists or ever could exist, but only those material defects observed on the date of the inspection.
Exterior
including lot grading, drainage, eaves and downspouts, stairs, railings, walkways, decks and porches, exterior finishes, all protrusions through the home, to the outside, including intake and exhaust vents, windows and doors, electrical service entrance, natural gas service, central air conditioning components, garages, garage doors, exposed foundation walls and more.
Structure
Consisting of the foundation, walls, floors, ceilings, columns, beams and roof members. These are the essential components that incorporate the structural integrity and strength of the home.
Roofing
including, coverings, drainage, flashings, drip edges, chimneys, skylights, eaves and soffits and downspouts, vents and all protrusions through the decking and covering and any visible roof-related issues.
Attic
insulation, ventilation and framing.
Interior
walls, floors, ceilings, stairs, railings banisters, windows, doors, egress and insulation and vapor barriers in unfinished spaces.
Kitchens
Including sinks, faucets, drainage, ventilation, outlets and lights
Laundry Rooms
plumbing, ventilation, receptacles, lights, tubs, taps and faucets.
Bathrooms
showers, tubs, sinks, taps and faucets, toilets, valves, exhaust fans, drains, piping and functional water flow.
Heating
outputs of furnaces and boilers, radiators, flues, piping, ducting, air flow at registers, thermostat controls.
Cooling
outputs, thermostat controls, line temperatures and air flows at registers. Air conditioners are not operated when temperature is below 65 deg F
Plumbing
main shut-offs, piping materials, supply and waste piping, cross connections, hose bibs, clean-outs, water pressure, flow, hot water heaters, gas supply pipes, meter and main shut off, traps and venting.
Electrical
service entrance, main and distribution panels, amperage and voltage of service, main shut off, branch circuit conductors and their over current protection, receptacles, polarity and grounding, switches and light fixtures. When additional wiring has been added panel board covers are removed and wiring examined.
Garage
Vehicle doors, openers, automatic closers, floors and fume barrier protection.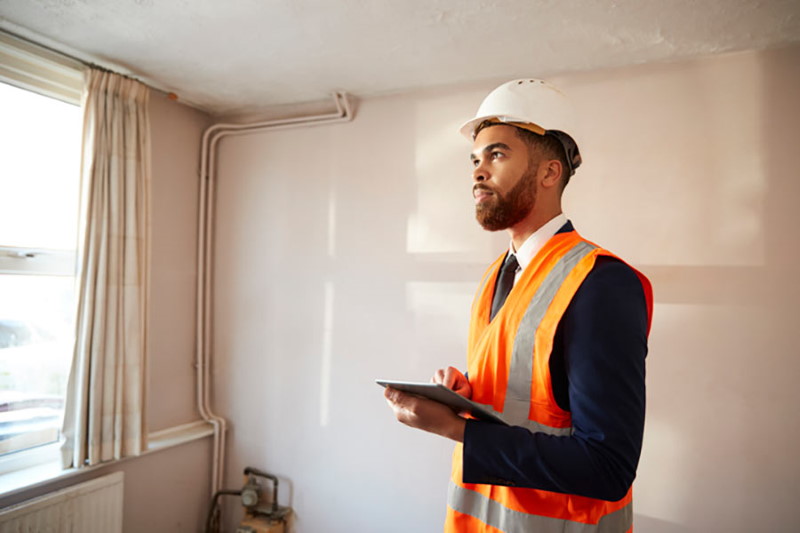 Home Inspection Tips for Buyers
Out of a sea of homes, you think you've found the one that is just right for you and your family. Congratulations! As a buyer, you still have a lot to figure out and many steps to take. One of the most important tasks? The home inspection
Home Inspections Are Important
To help you navigate the process, here are our top five home inspection tips for buyers.
Hire a qualified, experienced home inspector.
Do your own pre-inspection.
Be neighborly.
Know what to expect and be there.
Understand the report and use it to negotiate the best deal.
Hire a qualified, experienced home inspector.
A home inspector's sole responsibility is to provide you with the information you need to make a buying decision and negotiate a fair contract. It's really the only way to get a thorough, unbiased, third-party opinion about the state of the house you're considering. But not all home inspectors are created equal
Before hiring, do your homework. Consider whether you want to go with a large, multi-inspector firm or a small, one- or two-person shop. Large firms may offer you discounts and extra warranties, but you may not know who will actually do the inspection or how much experience on the ground they really have. In smaller companies, like ours, owners are usually very experienced. They continue to inspect homes to stay up to date on changes in the building industry and home inspection best practices. We've written about the importance of this decision on our blog
Additionally, know what to look for in a home inspection company. We've created a list of questions buyers should ask and what you should look and listen for in response. But there's one question that stands out as the single most important question to ask: "What will be inspected?" An inspector should demonstrate his understanding of your needs and be willing to go above and beyond the minimum requirements to give you the most comprehensive inspection report. He should show you specifically how he'll go the extra mile. And he should explain not just the inspection itself, but also what is included in the inspection report in detail.
Halloween Home Inspection Checklist: Bats, Rats and Rotting Flesh
Ask any prospective homebuyer and they'll tell you how easy it is to fall in love with what looks like a perfect home. In the bright light of day, they'll declare that home to be made of sunshine and rainbows. Butterflies and unicorns frolic in the back yard. It is utterly, undeniably perfect.
But many homes hide ugly secrets. Deep, dark, dank secrets. From the creepy crawly to the putridly disgusting, there's plenty you may not know about that perfect home. You have just two ways to discover the truth: One is to simply move in and allow time to reveal the skeletons hiding in your home's closets. Or you can work with your real estate agent to get a home inspection.
shared a story in which the home seller blocked the inspector's access to the attic and prevented a complete review of the heating and cooling system. The buyers purchased the home anyway and ended up
Who Does That?
Dealing with creepy critters—dead or alive—is bad enough, but sometimes it's people who leave you feeling like you should keep the lights on while you sleep. wanted to buy was built in 1925 and had been vacant for several months. Thanks to her home inspection, she discovered that thieves had broken into the home's crawlspace and stolen all the copper pipe.
Find a Good Inspector Through Your Real Estate Agent
After hearing all these stories, it's no wonder that 99% of real estate agents recommend their clients get a home inspection before they buy. Problems revealed through home inspections were the top reason buyers cancelled their home purchase contracts last year. Most of the time, however, buyers and sellers are able to renegotiate the contract so the problems are either resolved before closing or the home price is reduced.
Buyer's Guide To Home Inspections
The home inspection is one of the most important parts to go through during the buying process. This should be a time where you get to go back inside the home and meet with a local inspector at the property. These usually take a few hours, but you will learn a lot about the house during those hours. The home inspection can bring many emotions out of you.
I typically attend all inspections with my buyer because I like to be there if and when something major comes up. I also like to be there so that when it's time to write up the inspection response, I know exactly what's in the inspection report.
Your Inspection Checklist:
Roof: What is the age of the roof? Are there any missing shingles?
Foundation: You will want to make sure there are no obvious cracks in the foundation. Your inspector will point out normal cracks.
Plumbing: Depending on the age of the house, it wouldn't hurt to have the sewer line scoped (with a camera) to make sure there are no cracks. Make sure you know if the house is on a septic or sewer, and all is up to code.
Electrical: This always comes up on older houses. You want to make sure the outlets are grounded, and GFCI outlets are installed where needed (Bathroom, Kitchen, Garage).
HVAC: When was the last time the system was serviced? How old are the units?
Exterior: Always check to make sure the trim and other wood areas are free of wood rot. Make sure gutters are properly ran to push water away from the house.
Windows: Do the windows appear to be fogged up? They may have broken window seals. That's an easy fix, but usually when 1 or 2 seals are bad, the others may be going bad soon.
Basement: Be sure to look in the rafters to see any signs of mold. Check the corner walls to see if it looks like water is an issue.
Grounds: Make sure the grounds aren't sloping towards the house. This would mean water would drain towards your house which would cause foundation issues.
Appliances: Not all inspection companies inspect appliances. You will want to open these up and look for any damage or signs that they aren't working.
Crawl Space: Check for signs of water, wood rot and termites while your looking down there (or while the inspector is down there).
This is just a quick checklist you can look at while you are there. Most things that you find should be something that the seller may not know about. Usually they will disclose any known problems on their Seller Disclosure forms that you have already reviewed and signed at this point.
Just keep in mind, inspectors aren't perfect. You will typically find little things pop up after you move in. That is why it's always good to ask for a home warranty for your first year of owning the house. The day I moved into my house, my garage springs broke on my garage door and I couldn't get my door to open. Welcome to home ownership!
Home Inspection Checklist
Did you know that 44% of Americans have regrets about the house they bought or the home buying process they went through? To make sure home buying or selling goes without a hitch and all parties involved are satisfied with the transaction, there are home inspection checklists.
What Is a Home Inspection Checklist?
The home inspection checklist is a document that helps both the buyers and the sellers move property easier. They can help sellers inspect the property, measure the comps, and identify the key selling points.
They also help buyers assess the condition of the property during the initial walk-through. Home inspection checklists can be paper-based and electronic. In this article, we will be focusing on the latter.
Why Use an Electronic Property Inspection Checklist?
home inspection checklists are a convenient tool to inspect and record the condition of both the structural and decorative components of a property. Evaluating these items helps the buyers get an insight into the state of the house and its true value.
They also prepare the buyers to ask the homeowner or seller the right questions during walk-throughs and negotiation. Electronic property inspection documents create, store, and edit checklists on mobile devices while avoiding the paperwork that can get lost or damaged.