What Costs Are Included in a Home Renovation Estimate?
When you decide to hire a contractor to help you with a home renovation, the first step is to have the contractor provide a quote or an estimate for the price of the project. Many homeowners choose to request multiple quotes from different contractors, because most contractors will provide this service for free.
Building Materials Needed for Home Renovation
Typically the largest cost listed on an estimate will be the materials cost. When consulting with you regarding your project, your contractor should take detailed measurements. These measurements are used to determine how much material will be needed for flooring, painting, drywall, and other elements of the project.
Labour Costs for All Man Hours
When you work with a professional home renovation team, you are also paying for the skilled team that will be working on your project. While some contractors may charge a flat rate for different types of projects, many estimate the number of hours it will likely take to complete the job and use this number to calculate the number of payroll hours that will need to be covered.
Why Do Contractors Mark-Up Prices?
You may be thinking that you can save money by purchasing materials and completing the work yourself because contractors mark-up the prices when they give you a quote. It is important to remember, however, that contractors need to cover additional overhead costs, such as training and insurance costs, in order to provide a superior product to their customers. By paying for a contractor to complete your project, you enjoy a better, trusted end result.
Will the Cost of the Project Change?
In most cases, the cost that you see on your estimate is the price you ultimately pay for your project. However, there can be unforeseen surprises during the construction process, such as hidden damage that needs to be repaired, that can cause the price to change. Your contractor should keep you aware of any changes before the work proceeds.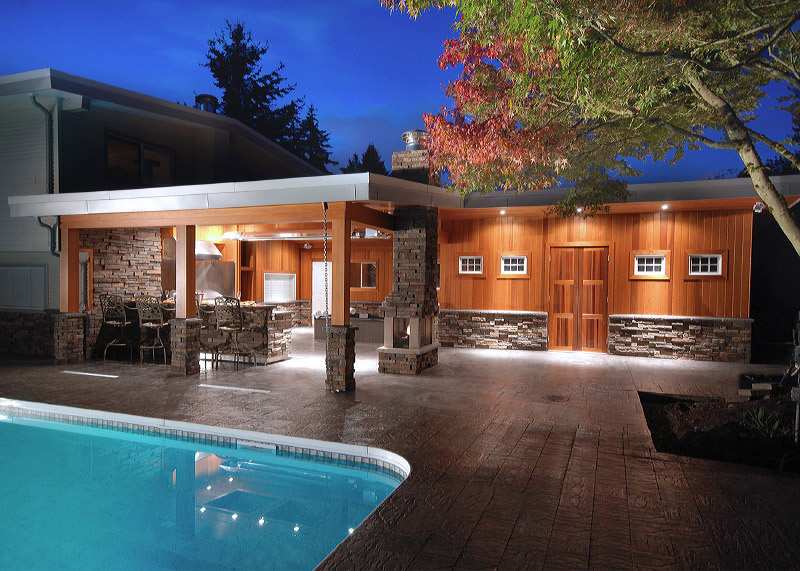 What Are Common Mistakes Made During Home Renovations and How Can I Avoid Them?
Especially if you are doing a whole house renovation, there are many different ways these projects can go wrong very quickly. There are many design and construction elements that must be completed perfectly. Below are home renovation mistakes the Pros see and help to rectify frequently throughout
Skipping Planning and Designing Steps
The best way to complete a successful house renovation is to have a clear, precise, and detailed plan in place. Take measurements and then take them again. Before any work begins, you should know the materials and tools that are going to be used and for what purpose. Failure to do so leads to problems such as running out of materials, incorrect installation, and other costly mistakes.
Cutting Costs By Choosing Cheap Materials
Home renovation can be expensive. Homeowners will often try to cut corners by purchasing the cheapest materials possible. This can lead to materials that fail during the remodelling process or soon after. These materials often also create a finished space that does not look as aesthetically pleasing as it could have with quality materials. When the cheap materials fail, you then find yourself not only buying all new materials, but also having to remove and replace the cheap materials.
Forgetting to Get Permits
Even minor home renovation projects often require one or more permits. While you may know plenty of people who have completed renovations without getting a permit, this is illegal. If your renovation is discovered, you may be required to pay a fine or completely remove new structures. In the worst case scenario, your house could even be condemned until the structure is removed.
Going Over Budget
Be careful not to underestimate how much it will cost to renovate your home. Remember to account for building materials, labour, and any new appliances. Always leave extra room in the budget for unexpected costs, as they almost always occur.
What are some ideas for custom home renovations?
A lot of creativity goes into custom home renovations. Whether you prefer the traditional look, modern look, country styles, or something else, you can make your home uniquely and completely yours. Reliable contractors and designers will help you come up with a custom solution just for your home, both indoor and out. Even if you don't have a large budget, there are still many changes and upgrades you can make.
Turn your attic into something useful.
Don't just let your attic be a dusty storage area. Take advantage of the space it provides. You can fix it up and turn it into anything from an office to a home theater. Need a guest bedroom? Just add a bed or sofa and fix the walls up to make the attic more inviting.
Utilize dead spaces
If there is a lot of extra space in the house, fill it up with something useful. For instance, you could turn dead space under a staircase into a storage room or bookcase. Add a wine wall in kitchen dead space. For bathroom or laundry room dead space, add towel racks. The possibilities are endless. Just don't add too many items – you don't want the house to look cluttered.
Design the kitchen properly
In a small kitchen with limited space, have the storage space and counter placed on the same wall as the appliances. The single wall kitchen design makes the room appear to be less cluttered.
Get a custom wall treatment.
Improve the tone and mood of each room with a custom wall treatment. There's no rule that says you have to use the same wall scheme in every single room. Some choices include wood paneling, wallpaper, drywall, and fabric. Fabric panels especially can add a lot of creativity to a room by enhancing any colour theme. As for drywall, some companies can create custom patterned panels and intricately textured panels.
Should I Tear Down and Build New Or Do a Home Renovation?
As you are considering all of the changes that you want to make during a home renovation, you may start to think about just tearing the entire home down and rebuilding the new house you want. There are circumstances that make this the better option
Making Major Structural Changes
There are certain structural changes to a home that are simply easier to achieve by building new. This might include changing the number and size of bedrooms and bathrooms, adding a floor or more to the house, or making other significant alterations to the overall layout of the property. Trying to salvage what little of you can of the home while you change the entire floor plan may actually make the project more difficult than it would be if you just tore down and started from scratch.
The Home Is No Longer Structurally Safe
Some older homes may no longer meet safety regulations. If the damage is extensive, such as a weak foundation or a large mold problem, large parts of the home may need to be removed and rebuilt. It could be wise to take this opportunity to completely redo the house.
Permit Restrictions
Before you make a decision regarding renovating or building new, it is important to consider the permits and approvals you will need to proceed with your work. In some areas, building new may require more steps and paperwork than if you choose to renovate the existing property. The regulations that must be met can significantly affect the cost and the amount of time it takes to complete the project.
Weighing the Costs
You will of course want to calculate the estimated costs of each possibility. When you tear down and rebuild, you have to take into account the cost of demolishing the existing property in addition to the construction project. If you choose to renovate an existing property, you will need to determine the cost of all repair and new construction costs that will be associated with this choice. You can contact the Pros to request a free quote for each of these routes.
Important Considerations When Hiring Home Renovation Contractor
No matter how big or small your remodelling project is, you always get what you pay for. It's not a good idea to hire the cheapest home renovation contractor you find because you will ultimately pay for their mistakes. Think about it: your house is your largest asset. It's the most expensive thing you own. Why would you want to place it the hands of somebody just because they promise you cheap labour?
Experience and skill level
You must work with renovators who have experience with your type of home. Look for before and after pictures to see what a contractor is capable of. For a large project, you will also need a manager who is capable of handling all of the responsibilities. Some home remodelling companies also offer design services.
Communication
The contractors you work with should be available to answer your questions in a timely manner. They should not withhold any information. Communication is extremely important, as you will want to receive regular updates on how the project is going. If there is anything you don't understand, your renovation experts should be willing to explain things to you clearly. On the flip side, an ideal renovator is also a good listener who is able to turn your goals into a workable plan.
Protection
Make sure everything is covered with insurance. Don't just accept written promises. The contractor should be able to provide you with proof of liability insurance. You never know what might go wrong with a renovation project. What if somebody gets hurt? Some tasks and tools are potentially dangerous. Even a professional isn't immune to accidents.
Educating yourself
Know exactly what you want with your renovation project and what is required of you as the homeowner. Know what permits to get and what laws and regulations need to be followed. At least have a basic understanding of how each task must be completed and which tools need to be used. Do a bit of homework on what goes on behind the scenes as well. Don't let the project begin without the permits. If you educate yourself, you will have some idea of whether or not a contractor would be suitable for your project.