Best Questions To Ask Your Wedding Videographer
Congratulations! You're finally at the point where you're ready to sit down and consider what you want in a wedding videographer. At this point, you should have locked down your wedding date and the venue it will be held at. Now that you know all of this, you can breathe a little easier.
Choosing the right wedding videographer is typically not as stressful of a process as the ones listed above, but if you fail to recognize some of the technical ins-and-outs you could be left with regret.
Introductory Questions
Introductory questions are meant to establish a baseline for your videographer search. These are usually answered on the videographer's website itself or through an initial contact email or phone call. Your time is precious and there's no use wasting it if one or many of these don't align with your needs.
Do they have your wedding date available?
First and foremost, you want to establish if the videographer in question even has your date available. Great videographers will often book popular dates at least a year in advance. This is an easy way to filter out videographers that 100% will work out.
How long have they been in business and filming weddings?
It's important to know what level of experience your potential videographer has. Weddings have many unique attributes to them and a newer videographer might not be able to handle it all. While it can be okay to give new videographers a break, you deserve the right to know this beforehand.
Will the videographer you're speaking to be the one who will be filming your wedding?
While it's not always a given that the person you're speaking with will be the one filming your wedding, it's good to get an understanding of what their team structure looks like and who will be in attendance on your special day. Also, look out for larger videography firms hiring out your wedding to videography networks for profit. These companies tend to have very little quality control and could lead to a disaster if they don't properly vet their shooters.
How many videographers will they be filming at the ceremony and/or reception?
Piggybacking off of the previous question, it's helpful to know how many videographers will be present on the day of your wedding. Having a vision or idea for the size and scope of your wedding is helpful in gauging what number is right. Smaller weddings can get away with a single shooter but typically send 2-3. On the inverse, you don't want too many videographers crowding the floor if you're planning a smaller wedding.
This information is sometimes included on the videographer's website and if often based on their pricing packages, so do some research first and have a rough idea in mind of what you might need.
Which parts of the wedding do they capture?
Again, this can also be dependent on what package you choose to purchase. There are usually 3 standard parts of the traditional wedding day: pre-wedding preparation, the wedding ceremony, and the wedding reception. If your wedding strays from this format, it might be a good idea to get some clarity on how they plan to document it.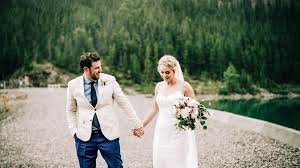 What is your video style and storytelling approach?
First thing you should ask is what is your videographers style and what is their cinematic process. Some videographers prefer a documentary style, where they shoot and edit everything chronologically. So you'll have bride prep, groom prep, ceremony, drinks, speeches, cake cut and first dance, all in a row. Some videographers have a style which is slightly more cinematically where they will cut bits from different parts of the day and edit them throughout your video so you might get speeches over the top of some couple shots, some parts of the first dance and confetti all mixed together. You need to find out what style of video that you're into a find a videographer that's a similar style.
What kind of equipment will you be using?
The three things that are important are cameras, lighting and sound. There are many different types of cameras that can be used for a wedding video. You have small DSLR cameras and large television cameras, and it's important to ask your videography which one of these they use and how that will impact your day. How do they handle sound, what type of microphones do they use? Are they using little lapel mics, are they using clip-on microphones or are they using boom poles with a big microphones attach to the end of them. If, and how, they use lighting. Do they put up lights all over your venue? Some videographers like to use a lot of lighting and some videographers like to use natural lighting, use no lights at all. This again is your prerogative, and what style a video that you prefer but it's worth checking.
How do you handle music for the wedding film?
Music sets the tone for your entire wedding video—in the clip below, the zippy song and descriptive lyrics make you feel like you're in paradise with the couple! Tell your videographer what kind of music you love (and hate) so that they can fit in your preferences. They should be open to your input, and in turn, you need to trust their judgment, since they know which songs will work well for editing. Ask if they will be using licensed music (especially for anything posted online).
What types of packages do you offer?
Videographers use either à la carte pricing or all-inclusive packages. The length of the videos is an important factor to consider. Many videographers produce short trailers or highlight films (2-5 minutes), which can easily be shared online. Other options include short-form wedding films (10-20 minutes), and feature-length videos (45-90 minutes). If you're on a tight budget, consider asking for raw footage only. But keep in mind that raw footage is just that—raw. You'll see camera movement, blocked shots, etc., but you can always have the footage edited later on.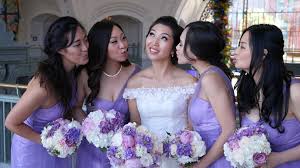 Can I See Your Previous Work?
This should be simple enough as most wedding videographers will have examples on their website, a YouTube channel or social media platforms. If they don't have anything easily available for you to view just drop a quick message to ask. Viewing their previous work gives you an idea of their natural style and the quality of their work. They may even give you some information on what package the couple chose so you have a good comparison idea.
Can I See Reviews From Your Previous Clients?
Hopefully your wedding videographer has lots of happy clients. Ask to see testimonials and reviews, you may even be able to talk to a previous client. I always strive to produce something i'm proud of and my couples love so I'm more than happy to show off my reviews.
Will there be a secondary camera operator?
This is normally down to each videographer's preference but it should be made clear from the start how many people you can expect to be filming. Often a second camera operator will mean a higher price for the job but will be able to capture the day from a different perspective, so it's about working out your priorities before committing to anything.
Can you recommend any photographers?
Videographers often get to know photographers from working weddings with them so will likely be able to recommend a few. Whoever you choose though, both suppliers will work together to make sure they both get everything they need from the day.